Improve your business productivity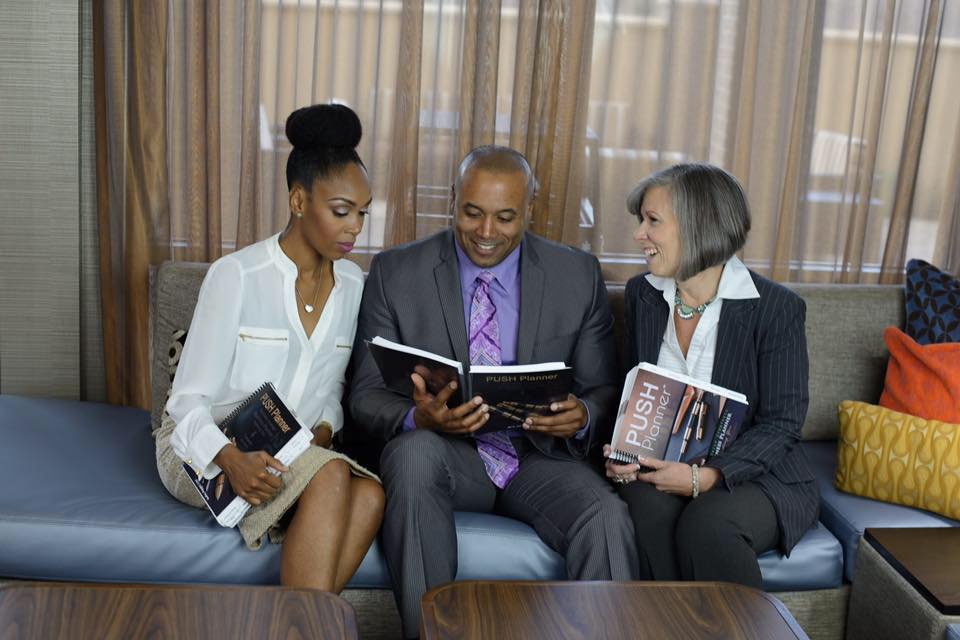 Your Daily Strategic BUSINESS PLANNER Pushing You Toward Success
Finally a Daily Planner that helps you STRATEGICALLY plan for your Business Success! 
Over 300 FULL COLOR pages, with tabs:
-Social Media Marketing Campaign Plan
-Profit and productivity planning
-Leads and Possibilities Follow Up Sheets
-Inspired Ideas for those drop into possibility moments
-Monthly Financial Analysis
-Weekly success tips, reminders, coaching and motivation
-Goal breakdown by Quarter
-Priority List
-Expansion planning
-Video training on how to use
And so much more…
Made by Entrepreneurs, For Entrepreneurs
Congratulations on taking that bold step in pushing yourself to achieve everything that you have ever wanted to achieve in your life and business.
We're rooting for you. Best wishes!
Professional Edition (two covers to choose from)
How many times have you had a desire or dream to accomplish something in your life or business but you kept it in your head and you never wrote it down?
How many times have you had an opportunity appear but you forgot to follow up with someone and by the time you went back or recalled the situation the opportunity had closed?
How many times have you wanted to develop a new product, expand on your business operations or expand on a new idea or concept but you didn't have the money saved?
These are concerns that many entrepreneurs have. They aren't planning for growth and longevity. We have great ideas, ambition and great momentum but we lack proper planning. I truly believe that when you fail to plan, you plan to fail.
Planning gives you a road-map. It gives you guidance and purpose and meaning towards where you want to go and what you want to achieve. This PUSH Planner is that system that is going to push you towards your success and accelerate you towards your goals and take you to milestones after milestone after milestone as long as you stay consistent with writing down your daily "Must Do's".
Social Media Marketing Campaign Planner Now Added
When it comes to operating a business one of the main struggles people in
business have is staying focused, consistent organization and planning. Veteran Entrepreneur Ari Squires, a business planning and development consultant and author knows this struggle all too well having a young son, husband of over thirteen years and balancing her personal life and business affairs.
Overwhelm is a common and crowded place where too many entrepreneurs end up and it's not the loveliest of places to want to be. Ari understands that the right planning system is what will alleviate overwhelm and push business men and women towards reaching their desired goals and profit benchmarks . She knew there had to be a better way than sticky notes and random notebooks laying around. After noticing she was not completing her daily tasks she realized it was because she did not have a system for tracking her progress and it left her feeling defeated and often causing her to want to give up on her dreams. One day after she pulled a few strands of her hair out, she pulled out a blank notebook and started tracking her days in more details and wrote the word 'PUSH' in big bold letters each day. She began to see an increase in profits and opportunities by using this new system. There was no more overwhelm. 
After asking a few of her business development clients to try the planner for 90 days, she knew she had something on her hands that would change the way people do business. Her clients became more focused, accomplished their goals in less time and felt better about the pursuit of expanding their businesses for years to come.
Now, the PUSH Planner is available for all in business to push them to that next level of success while helping them sustain long term success by the use of daily must dos', follow ups and quarterly forecasting.
She hopes that the PUSH Planner will give you that boost you need on your business journey. Wishing you every success as you strategically plan daily for your business growth, sustainability and profitability.
      SheEO Publishing Company